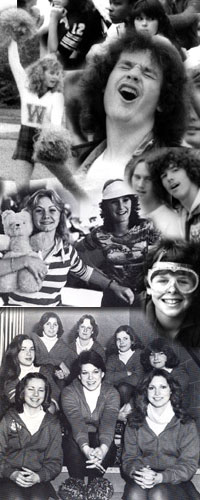 Welcome alumni, students, faculty, parents, family and friends of Woburn Collegiate Institute - Scarborough.

This WoburnAlumni website was established January 1, 2005 to reunite and reconnect with our high school years.

For some, the years at Woburn seem so very long ago, that it's hard to recall many memories. Others have maintained their connections to friends, to some of the most important, life changing, character building years of our lives.

Monte Carlo Nights - C.W.C.I. - Bark Lake - A.S.C.W.W. - Slave Auctions - Grade Nine Hikes - Fun Run - Dance Marathons - The Vultures "White" Album - CHUM T- shirts - Grizzley Frog - Wildcat football at the C.N.E.
Since this site is run voluntarily, suggestions and help are always welcome.

Do you have any images from your time at Woburn you'd like to share? Just email us and will post them. Keep in touch over the next while as the site grows. We will change graphics and images as more become available.


It is our hope that Woburn Alumni will bring a sense of community to everyone whose lives have been touched by Woburn C.I.
Enjoy,
Kevin
Please visit the Woburn website
at www.woburnci.com
for all current information.
Woburn Collegiate Institute
2222 Ellesmere Road
Scarborough, ON, M1G 3M3 Telephone: 416-396-4575